Polisport Frame Prot. FC/TC/FX/TX 19-.. TE/FE 20-.. - White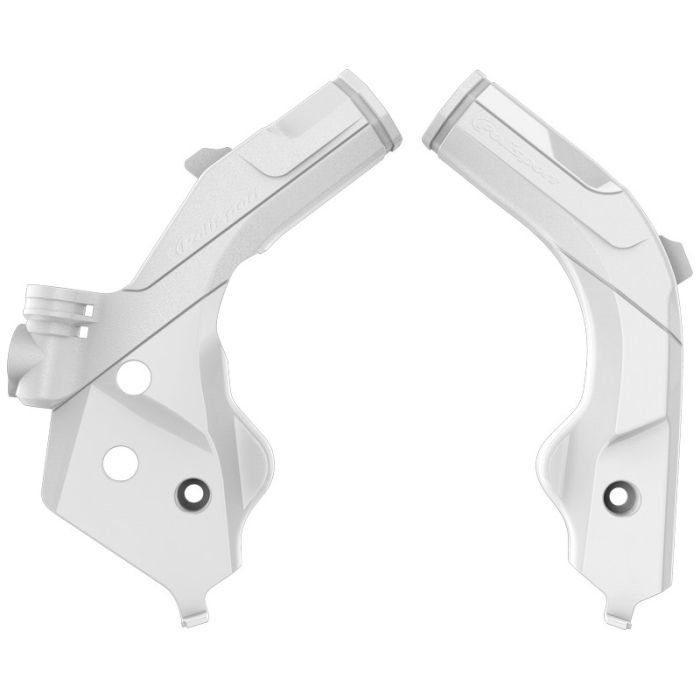 Photos for reference only. Changes may be possible.
DESCRIPTION
Frame Protectors will provide the best protection to your frame from roost, impact and rider's boots. This performance part has a slim and low-profile design to avoid interaction with the boots and is produce in high resistant plastic material to be durable and resistant. The part has also a grippy texture to increase the adhesiveness to the bike and will give a factory look to the bike with its OEM and black color options.
Features
- Provides protection of the frame from roost, rocks and the rider's boots
- Enhanced grip with its textured surface
- Abrasion and impact resistant
- Slim protection. Doesn't interfere with rider's boots
- Durable and resistant
- Quick and easy to install. All hardware included
- Keeps the frame looking like new
- Sold as a pair
- Periodic removal and cleaning advised
Weight: 150g/0.33lb
More Information

| | |
| --- | --- |
| Unit | Pair |
| Brand | POLISPORT |
| Bike specific | Bike specific |
| EAN / Bar Code | 5604415113024 |
| MPN | 8470700002 |
Fits
| Ride | Bike | Model | Year |
| --- | --- | --- | --- |
| MX | GasGas | MC 125 | 2019 |
| MX | GasGas | MC 125 | 2020 |
| MX | GasGas | MC 125 | 2021 |
| MX | GasGas | MC 125 | 2022 |
| MX | GasGas | MC 250 | 2019 |
| MX | GasGas | MC 250 | 2020 |
| MX | GasGas | MC 250 | 2021 |
| MX | GasGas | MC 250 | 2022 |
| MX | GasGas | MC 250 F | 2019 |
| MX | GasGas | MC 250 F | 2020 |
| MX | GasGas | MC 250 F | 2021 |
| MX | GasGas | MC 250 F | 2022 |
| MX | GasGas | MC 450 F | 2019 |
| MX | GasGas | MC 450 F | 2020 |
| MX | GasGas | MC 450 F | 2021 |
| MX | GasGas | MC 450 F | 2022 |
| MX | Husqvarna | FC 250 | 2019 |
| MX | Husqvarna | FC 250 | 2020 |
| MX | Husqvarna | FC 250 | 2021 |
| MX | Husqvarna | FC 250 | 2022 |
| MX | Husqvarna | FC 350 | 2019 |
| MX | Husqvarna | FC 350 | 2020 |
| MX | Husqvarna | FC 350 | 2021 |
| MX | Husqvarna | FC 350 | 2022 |
| MX | Husqvarna | FC 450 | 2019 |
| MX | Husqvarna | FC 450 | 2020 |
| MX | Husqvarna | FC 450 | 2021 |
| MX | Husqvarna | FC 450 | 2022 |
| MX | Husqvarna | TC 125 | 2019 |
| MX | Husqvarna | TC 125 | 2020 |
| MX | Husqvarna | TC 125 | 2021 |
| MX | Husqvarna | TC 125 | 2022 |
| MX | Husqvarna | TC 250 | 2019 |
| MX | Husqvarna | TC 250 | 2020 |
| MX | Husqvarna | TC 250 | 2021 |
| MX | Husqvarna | TC 250 | 2022 |
| MX | Husqvarna | TX 125 | 2019 |
| MX | Husqvarna | TX 125 | 2020 |
| MX | Husqvarna | TX 125 | 2021 |
| MX | Husqvarna | TX 125 | 2022 |
| MX | Husqvarna | TX 300 | 2019 |
| MX | Husqvarna | TX 300 | 2020 |
| MX | Husqvarna | TX 300 | 2021 |
| MX | Husqvarna | TX 300 | 2022 |
| Enduro | GasGas | EC 250 | 2019 |
| Enduro | GasGas | EC 250 | 2020 |
| Enduro | GasGas | EC 250 | 2021 |
| Enduro | GasGas | EC 250 | 2022 |
| Enduro | GasGas | EC 250 F | 2019 |
| Enduro | GasGas | EC 250 F | 2020 |
| Enduro | GasGas | EC 250 F | 2021 |
| Enduro | GasGas | EC 250 F | 2022 |
| Enduro | GasGas | EC 300 | 2019 |
| Enduro | GasGas | EC 300 | 2020 |
| Enduro | GasGas | EC 300 | 2021 |
| Enduro | GasGas | EC 300 | 2022 |
| Enduro | Husqvarna | FE 250 | 2020 |
| Enduro | Husqvarna | FE 250 | 2021 |
| Enduro | Husqvarna | FE 250 | 2022 |
| Enduro | Husqvarna | FE 350 | 2020 |
| Enduro | Husqvarna | FE 350 | 2021 |
| Enduro | Husqvarna | FE 350 | 2022 |
| Enduro | Husqvarna | FE 450 | 2020 |
| Enduro | Husqvarna | FE 450 | 2021 |
| Enduro | Husqvarna | FE 450 | 2022 |
| Enduro | Husqvarna | FE 501 | 2020 |
| Enduro | Husqvarna | FE 501 | 2021 |
| Enduro | Husqvarna | FE 501 | 2022 |
| Enduro | Husqvarna | TE 125 | 2020 |
| Enduro | Husqvarna | TE 125 | 2021 |
| Enduro | Husqvarna | TE 125 | 2022 |
| Enduro | Husqvarna | TE 150 | 2020 |
| Enduro | Husqvarna | TE 150 | 2021 |
| Enduro | Husqvarna | TE 150 | 2022 |
| Enduro | Husqvarna | TE 250 | 2020 |
| Enduro | Husqvarna | TE 250 | 2021 |
| Enduro | Husqvarna | TE 250 | 2022 |
| Enduro | Husqvarna | TE 300 | 2020 |
| Enduro | Husqvarna | TE 300 | 2021 |
| Enduro | Husqvarna | TE 300 | 2022 |